Let's be honest, the 21st century has a new God and it lets no prayers go unanswered. No effigies yet almost all of us hail the new God of the 21st century, the internet. This intangible network has huddled us close to the point where stepping out of the doorway has become secondary. Although the world as we know is a product of its effects, its omnipotence is out of question. There is not a single problem that doesn't have a solution for it on the web. Similarly, the lack of human companionship isn't an exception.
Everyone who has ever wondered if they'll be joining the forever singles club or were just looking for some "fun" know that dating sites can make a difference. Dating sites put internet to exclusively serve the purpose of scouting out dates. As a matter of fact, they have made the world seem smaller, condensing it into "screen" moulds. You no longer have to go out and force yourself to be social; the person you've been looking for might be just a tap away. According to stats, millions have been saved from sinking into loneliness-induced depression in the past few decades, ever since the dawn of best dating sites. But where there is mass benefit, there is always business.
Dating business is booming now more than ever, considering the millennial dating ethic. In order to keep up with the rise in demand, sites are popping up left and right, making it tricky to choose the right ones to trust. After all, they all seem to do the same thing, right? Wrong.
This is where we come into play. We searched and researhed for the best dating sites out there, to save your precious time, money and data from going into the hands of crooks. As a result, this list was curated, with the sole objective of guiding and safeguarding your interests.
Top  Rated Dating Sites in 2019
Below are the top dating sites in no particular order:
1) EliteSingles
Quality over quantity, that's it. This phrase effectively sums up the site's core ideology. EliteSingles claims to be the "go-to", especially for working professionals. Unlike other sites, you're not led to a "sea" with plenty to choose from. Instead, your personality coupled with other factors is into account to provide you with a match, handpicked just for you. Even though it makes the online dating sites experience less time consuming and less addicting, the wait for the match/matches may cause some to lose interest.

To put it briefly, you ask the chef to surprise you instead of choosing  from the menu itself.
Pros
Five Factor Model serves as the basis for your personality profile.
3-7 matches a day, that is, no mindless browsing.
Strict verification criteria for profiles.
Also has blog, EliteSingles Magazine which offers dating hacks and more.

Cons
Not suitable for undergraduates or teens, as the site caters only to college grads and working professionals.
Even though the site is heavy on security and fake profiles, there is still room for lying on profile information.
What it costs:
3-month membership – $62.95/month
6-month membership – $44.95/month
12-month membership – $31.95/month
2) Zoosk
Zoosk is smart. In contrast with the mainstream idea of running the same inflexible algorithm for everyone, it learns from you and adapts. Your online activity gives it an idea about your preferences, and works accordingly.

The result you ask? On your screen are matches that will most probably fit your "type". As evident from this information, it goes without saying that your total activity on the site is directly proportional to your chances of success.
Pros
The sign-up process is easy.
The SmartPick feature, that acts as your virtual wingman.
Pretty easy to use.

Cons
It is mandatory to have a Facebook account to operate the site.
A paid subscription is necessary to function on the site.
What it costs:
1 month membership – $29.95/month
3 month membership – $19.98/month
6 month membership – $12.49/month
3) Adult Friend Finder
Let's be honest, when booty call strikes, you got no choice, right? You can either writhe in agony in your bed or sext someone right away. Where to find a sexting or hook-up partner you ask? You have it covered with Adult Friend Finder.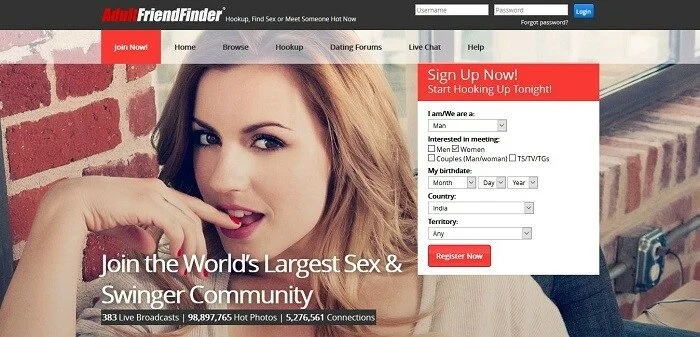 No matter what kinks or fetishes you've got, on AFF you can bare it all. Just be precise and true about your preferences and you may land up with someone like indeed.
Pros
Friendly towards the LGBTQ community.
Great for solely sexual relationships.
The site can be translated into Chinese, Dutch and Portuguese.
A whooping 25 million people finding their "adult friends".

Cons
Pretty expensive paid subscription.
Outdated and outlandish site design.
What it costs:
1 month GOLD membership – $30/month
3 months GOLD membership – $20/month
6 months GOLD membership – $15/month
4) eHarmony
Romance is great while it lasts, but it is gold when it stands the test of time. In a world where fast-track dating in the norm, relationships worth your time and effort are eHarmony's forte. The site is unique in terms of its methodology. You are paired up with someone on the premises of 29 dimensions of compatibility (estimated with the help of a questionnaire).

In addition, eHarmony has also got you covered for the ice-breaking. In order to save you the perils of initial awkwardness and cluelessness, it has in place Guided Communication, a four-step program for communication.
Pros
Emphasis on building true and fruitful relationships, eventually leading up to marriages.
No fake accounts.
RelyID, a feature to guarantee the authenticity of the users.
Free dating advice at Love and Harmony.

Cons
Pretty heavy on the pocket.
The sign-up process can be tedious.
What it costs:
3 months membership – $54.95/month
6 months membership – $36.95/month
12 months membership – $22.95/month
5) Match
Match is one such platform that doesn't tie a leash around you. To elaborate, the website doesn't believe in forcing limitation on interactions between its users; you are free to chat with whosoever you want to. On the contrary, with strict security in place, there is absolutely no place for fake accounts.

Moving on, to function on the site, you just have to set-up your preferential information, and hit search. You can even go incognito and browse through profiles without them knowing.
Furthermore, Match also organises social events for people to meet and greet without a screen in between.
Pros
A majority of users have long-term fulfilling relationships as their goals.
No fake accounts.

Cons
It is a bit on the expensive side.
The verification waiting period is irritably long.
What it costs:
3 month membership – $23.99/month
6 month membership – $20.99/month
12 month membership – $19.99
6) Bumble
Bumble took the road not taken and placed the role of initiation solely in the hands of the female sex. Here, only women can take the initiative of making the first move. This policy is a direct response to a common problem: harrasment of women with unsolicited obscene content. Although men have criticized this move significantly, women feel much safer and confident on Bumble. After all, they hold the scepter.

However, there is a catch. No one can escape the clock. For heterosexual relationships, the woman has 24 hours to make a move and the male counterpart has 24 hours to respond. In case of a homosexual scenario, either person is free to initiate the conversation within 24 hours, giving the recipient a 24 hour window to revert.
Pros
Bumble BFF and Bumble Bizz, Bumble's two additional modes, for casual friendships and business networking respectively.
A smoother and better experience for women, given the fact that the app provides them with immunity against "creeps".
Men can take a break from succumbing to the social stereotype of always having to take the lead.
For a certain sum of money, you can put your profile "under the spotlight" for a definite amount of time.

Cons
Men don't have control over their preferences.
There is no way of refining search in terms of age and distance.
Automatic renewal of subscriptions without any form of notification to the user.
The only outlet for self-expression on your profile is through photos.
What it costs:
One-week membership – $8.99/week
1 month membership – $24.99/month
3 months membership – $16.66/month
6 months membership – $13.33/month
7) Anomo
With Anomo (short for anonymous) you can fall in love, anonymously. In general terms, you can hide away your personal information, even your profile picture, and interact as just an avatar. With all the material and physical appeal gone, you can now see what truly maters in a person.

Anomo has garnered appreciation from the critics for being the perfect platform to hold insightful and thought-provoking conversations. You can even chat with anyone you like and even play ice-breaker games. Gradually, as you get comfortable with someone over time, you can slowly and steadily divulge your information.
Pros
Great for people who are shy, introverted or just insecure.
A better way to know and understand someone.

Cons
It is probably the easiest way to get catfished.
A very small user base.
What it costs:
Nothing. Absofuckinglutly nothing. It's free.
8) Tinder
Tinder tops the charts of popularity as the hottest dating site of the season, and why not? It is probably the easiest one to use. All you have to do is swipe right if you're "into" them or swipe left to pass, easy breezy lemon squeezy. And when right swipes from the both the sides? It's a match!

You name it, and Tinder has got it (casual friendships, sexting, hook-ups, one-night stands, serious relationships (pretty rare though) and even networking). With millions of users under its belt you're least likely to run out of options, so don't lose heart if it doesn't work out for you immediately.
Pros
Location-based search makes it easier to transition from online chatting to offline meets.
On Tinder Gold and Tinder Plus, Tinder's two other paid modes, you can enjoy additional benefits like unlimited likes and highlight.
Available in 24 languages.

Cons
There is no way out of an active subscription.
It is mandatory to have a Facebook account to register.
Limited number of swipes on its free version.
Prices vary according to different age-groups.
What it costs:
Subscriptions for Tinder Plus and Tinder Gold start from $9.99 USD/month and $14.99/month respectively.
9) Coffee Meets Bagel
Every day at noon, CMB "delivers" you a "bagel", figuratively. Assuming that you are confused, a "bagel" is a match sent to your profile by the site. Although, keep in mind, only one bagel a day is allowed. Through this practice, the importance of quality over quantity is accentuated.
Couple with that, you are provided with excellent suggestions on how to break the ice. The site believes that a meaningful conversation is indispensable to take things offline. Thus, only the best suited "bagels" are matched with your "coffee".
Pros
Matches sent once a day check our tendency to surf the site addictively.
Its premium membership is targeted at eliminating ghosting.
The profile designs descriptive to give you a better picture of the other person.
CBM's profiles have more dimension than that of other sites.

Cons
The app interface is loaded with too many unnecessary features.
What it costs:
1 month membership – $34.99/month
3 month membership – $24.99/month
6 month membership – $19.99/month
12 month membership – $14.99/month
10)  Hinge
Haven't we have all had our mutual friends play cupid at least once? Isn't it one of the oldest tricks in the books? But what if we told you that a site is willing to do it for you, after all, it is designed to be deleted.
Hinge plays your wingman by using your Facebook friends as a parameter. People with whom you share mutual friends with on Facebook are matched with you. In case you're wondering if manual searching is available or not, don't fret.

The new update in the app gives you the power to search for your match with the help of a pop-up questionnaire and the series of likes you hit on a profile. If you feel that the free version doesn't have it all, Hinge Premium's range of paid features won't disappoint you.
Oh, and as a bonus, they check-up on you after your first date with your match to, ah, enhance your future experience (if it doesn't work out).
Pros
With only a like or a comment on any portion of the profile, you can get matched.
There are less chances getting of cat fished.
Personal information like religion and political beliefs come into play to celebrate diversity and differences.
More emphasis on personality rather than on photos.

Cons
Your Facebook information gets shared by the site and it cannot be changed later on.
What it costs:
1 month membership: $12.99/month
3 months membership: $6.99/month
6 month membership: $4.99/month
11)  OkCupid
OkCupid revolutionized the world of dating sites by justifying that you are more than just your looks. Actualizing this idea, OkCupid's matches you based on your likes and dislikes rather than just your pictures.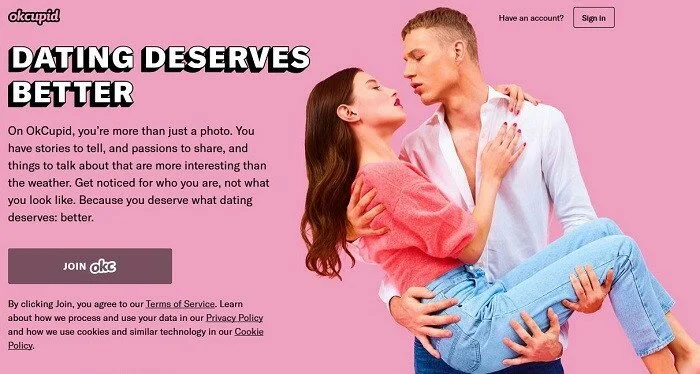 This procedure might seem long to those who are here for a quick-fix. For them the "quickmatch" might do it. The feature takes the shortest route and matches you with people solely on the basis of the pictures uploaded.
Pros
The core features are free to use.
You can create informative and detailed profiles.
OkCupid's premium (paid) version gives you an ad-free experience with an array for features that are worth the money.

Cons
It'll only be of benefit to you if you're from the big cities.
The messages you send to profiles you're not matched with do not show up in their primary inboxes.
What it costs:
1 month membership: $12.99/month
3 month membership: $6.99/month
6 month membership: $4.99/month
12)  Happn
This French geo-targeted app was all the rage recently; the mainstream media could only handle enough. Evidently, if you have still managed to stay aloof of this name, I wonder how big a rock you must have been living under. Happn is geo-targeted, which means that your geographical location plays an active role in determining your matches.

Therefore, you're matched with people you've crossed paths with in real-life (incoming cliché rom-coms). In fact, you're even informed about how many times you've crossed paths with each other, time and location. Moreover, if you are on the shy side, you can choose to go incognito and send an anonymous "Hi". Also, do you fancy playing a game to find who is into you? If yes, then Happn is for you.
Pros
Personal information like your location is safe from the eyes of others until they like you back.
Happn also provides you with conversation starters to break the ice.
Voice messaging is supported.

Cons
Daily commuting may turn into an awkward experience given the scenario that your experience with your match goes south and you both happen to be sharing the same route/commute.
To be blunt, you'll have a hard time on the site if you live in a relatively less populated area, for obvious reasons.
What it costs:
1 month membership – $20.00
3 month membership- $16.00/month
6 month membership- $12.00/month
13)  The League
Even if one is rich, famous and blessed with all the material possessions in the world, dating never ceases to be precarious. To the aid such, who consider themselves to be a class apart, comes The League. The site distinguishes itself from the rest of its competitors for not being a play field for the masses.

Understandibly, to be a member, you are required to send in a formal application, listing down your professional and educational qualifications. The dating sites are manually judged and verifies. Only if the panel deems you worthy enough, you're welcome to the club. Your Facebook and LinkedIn profiles are mandatory to attach, along with 6 of your photographs. Pretty gruelling, right?
Apart from dating, you can explore local events and find people/groups to attend them with (and build a network).
Pros
You save yourself time and effort (from surfing) with having just 3 matches a day, and can sure of their quality. The number of matches can be extended up to 5 or 6 with a paid membership.
Following the strict screening process, fake profiles are scarce.
Facebook friends and colleagues are automatically excluded to avoid any awkward confrontations.
Excellent customer service.

Cons
The paid membership is quite expensive.
A waiting period is significantly long.
In case of rejection by the side, the reason behind it will not be stated.
What it costs:
A year's membership costs $349.
14) Her
"Dattch" (Date Catch), or as it is now know, Her, is targeted exclusively towards lesbian, bisexual and queer women. Obviously, men are out of the picture. You are to essentially provide your Instagram or Facebook account in order to sign in/sign up.

Information such as your birth date, profile name and profile picture are automatically imported from your social media handle of choice. On Her, your sexuality, age and location are the primary criterion for the match making. It has got the trendy swipe format for surfing and while messaging is free, it is limited to your friends and matches only.
Pros
Free and unlimited messaging.
Easy and fast signing-up process.
You can send as many friend requests as you want, for free.

Cons
Manual searching is absent. You have to be content with the matches sent your way.
Your friends list is public.
Women with seemingly masculine physical features are sometimes wrongly rejected by the site.
What it costs:
1 month membership – $14.99
6 month membership – $10.00/month
12 month membership – $7.50/month
15)  Clover
Clover is the love child of Tinder and OkCupid; it's got the best of both worlds. Regardless of what you are on search for, you're not going to be disappointed by Clover's wide use base. Clover's interface is laden with interesting features: in-built date scheduling and profiles with an included match-percentage.

A match-percentage is the percentage estimate of you and your match's compatibility based on the profile information. The site offers a paid premium membership that is not devoid of perks such as a more refined search filters. However, if you are hesitant, you're welcome to try its 7-day free trial.
Pros
You can view chat rooms (also called "mixers") joined by someone.
Even on the free version, ample features are up for use.
Multimedia messaging is supported.

Cons
One may blame the unrestricted messaging for unsolicited content sent in by complete strangers.
The subscription plans are not affordable for everyone.
What it costs:
1 month membership – $29.99
3 month membership – $20.99/month
6 month membership – $15.00/month
16)  Plenty of Fish
Plenty of Fish, or POF, was launched in 2003 and is now one of the pioneers in the dating biz. It brags about having a user base bigger that any of the dating sites giants out there (talk about an appropriate name). While POF provides you with a refined and thorough search option for free, sliding in a few bucks gets you more.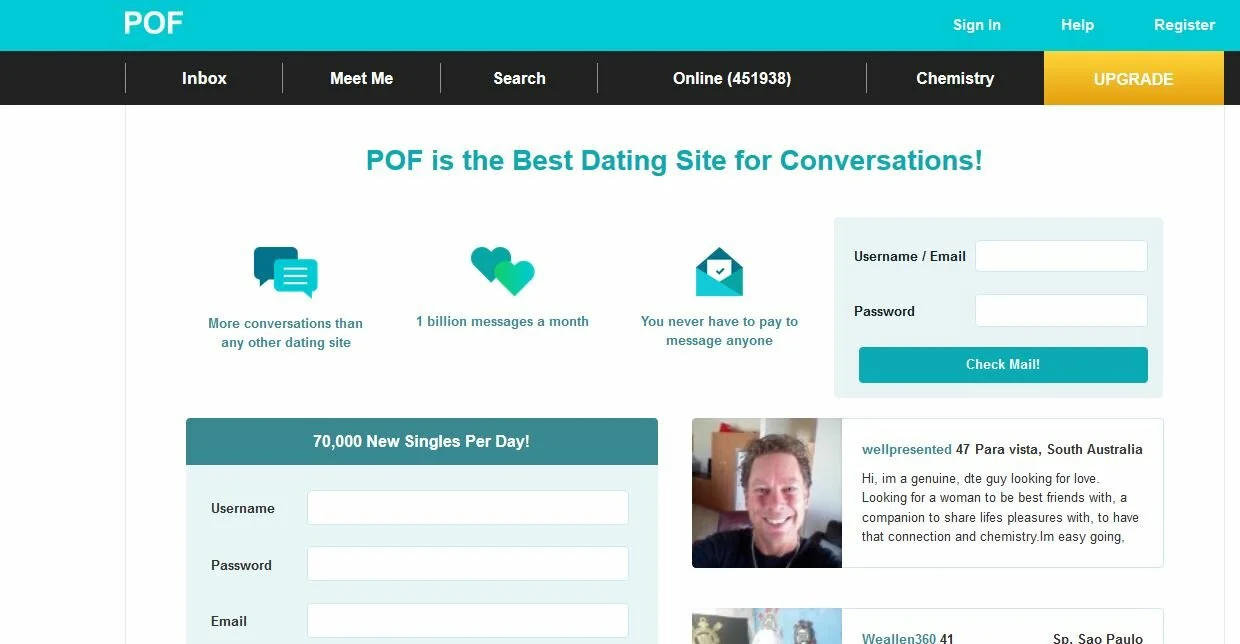 With an access to features exclusive to premium memberships, you now have the power to narrow down your search down to personality traits and compatibility. Plenty of Fish also claims that 30% of its members get done with their "fishing" within a month, so why not get your nets ready?
Pros
Tools such as Chemistry Test (a quiz to check for compatibility) and Relationship Assessment Test.
You are informed about the type of matches that will be generated based on what your profile bio includes.
Search can be based off on 14 features.

Cons
Men are not allowed to send pictures.
The ads on the free version are buggersome.
Algorithm used for matching is pretty basic.
What it costs:
2 month membership – $ 18.59/month
4 month membership – $13.39/month
8 month membership – $10.68/month
17)  Single and Shy
Not everyone has to be an extrovert or a party animal to get lucky. Not everyone is born this way and not everyone thinks this way. Still, it's getting harder and harder for two such people to cross paths socially. To kill this bane, Single and Shy came into place as a haven for introverts worldwide.

The website uses your preferences, interests and locations to set you up with a bashful beauty/bachelor. It not only helps you in the dating sphere, but also with overcoming social anxiety and shyness.
Pros
Apart from dating, it is a great place to find friends.
The site design is intuitive and doesn't require a manual.

Cons
You require a premium account membership to text.
The use base is small.
What it costs:
1 month membership – $29.95
3 month membership – $19.99/month
6 month membership – $16.66/month
12 month membership – $11.67/month
18)  Cams.com
Cams.com is where you should be headed when your sex-life us dry and porn doesn't do it for you. This site doesn't match you with anyone. Instead, you can stream live cam-shows and private shows in exchange of tokens*. But this is not even the best part yet.

On Cams.com, you can "live" the experience with the help of teledildonics (Bluetooth sex toys) which you can buy on the dating site itself through LoveSense and OhMiBod. Of course, all purchases require the use of tokens* rather than actual money.
Pros
An interactive sexual experience for everyone.
Great way to test out Bluetooth sex toys.

Cons
You cannot score a match with anyone.
The token system seems like too much work.
What it costs:
Token system*, an in-site currency has replaced the monthly subscription plans.
1000 tokens – $99
Conclusion
We've come a long way in the terms of online dating sites. From bland profiles to Bluetooth pleasure devices, we've bridged a huge gap. The focus has expanded its horizon from just dating, and now ranges into networking and sheer sexual pleasure. But this is not it. Although progress has been significant, it won't stop here. Dating on web will continue to get easier and more convenient with each year, until technological revolution reaches its zenith. But God forbid if it ever replaces the charm of real human interaction.